Entasis Therapeutics to Participate in the 5th Annual SunTrust Robinson Humphrey (STRH) Annual Life Sciences Summit
April 30, 2019 at 4:01 PM EDT
WALTHAM, Mass., April 30, 2019 (GLOBE NEWSWIRE) -- Entasis Therapeutics Holdings Inc. (NASDAQ: ETTX), a clinical-stage biopharmaceutical company focused on the discovery and development of novel antibacterial products, today announced that Dr. Manos Perros, President and Chief Executive Officer of the Company, will host one-on-one meetings with investors at the 5th Annual SunTrust Robinson Humphrey (STRH) Annual Life Sciences Summit being held May 7-9, 2019 in New York, New York.

Investors attending the conference who are interested in meeting with Company management should contact their STRH representatives.
About Entasis
Entasis is a clinical-stage biopharmaceutical company focused on the discovery, development and commercialization of novel antibacterial products to treat serious infections caused by multidrug-resistant Gram-negative bacteria. Entasis' targeted-design platform has produced a pipeline of product candidates, including ETX2514SUL (targeting A. baumannii infections), zoliflodacin (targeting Neisseria gonorrhoeae), and ETX0282CPDP (targeting Enterobacteriaceae infections). Entasis is also using its platform to develop a novel class of antibiotics, non-β-lactam inhibitors of the penicillin-binding proteins (NBPs) (targeting Gram-negative infections). For more information, visit www.entasistx.com.
Entasis Company Contact    
Kyle Dow
Entasis Therapeutics
(781) 810-0114
kyle.dow@entasistx.com
Investor Relations Contact
Tram Bui
The Ruth Group
(646) 536-7035
tbui@theruthgroup.com
Media Contact
Kirsten Thomas
The Ruth Group
(508) 280-6592
kthomas@theruthgroup.com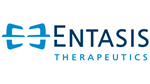 Source: Entasis Therapeutics Holdings Inc.